Trinlay Rinpoche – The 9 Stages of Shamatha Meditation via Bodhi Path Renchen-Ulm
October 27 @ 20:00

-

October 29 @ 12:00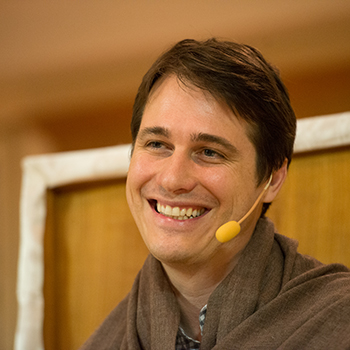 Meditation according to the Buddha's teachings is a necessary support on the path to liberation. The various forms, starting with the meditation of calm abiding (Shamatha or Shiné), serve to train the mind. The point is to become freer from the constant, inner distractions, to attain a calmer, more peaceful mind. This is the foundation for any further progress on the path to awakening. At this course, Trinlay Rinpoche will explain the nine stages of Shiné meditation, which is an essential pillar in the Bodhi Path curriculum of practice. At the same time, he will also provide remedies to the obstacles that may arise during the practice.
Karma Trinlay Rinpoche was recognized by the 16th Gyalwa Karmapa as the reincarnation of an important Buddhist teacher. He underwent traditional training for tulkus and also studied at Western universities. He is considered the first Western reincarnation of a lama of the Karma Kagyu school and teaches in Asia, Europe and America. Among other things, he also leads the Bodhi Path Instructor Training in Renchen-Ulm. Rinpoche lives with his family in the Dordogne, France. see also: karmatrinlay.org
Course times: Friday, October 27, 8 p.m., Saturday, October 28, 10 a.m. and 3 p.m., Sunday, October 29, 10 a.m.
Course language: English with German translation
Organization fee for the entire course
for personal participation: € 75, reduced: € 60 (The reduction is valid for supporting members of Bodhi Path Renchen-Ulm, for students and retired persons as well as unemployed persons).
for online participation: € 40, reduced: € 32     Please note: tickets for online participation can only be booked until 27.10., 17.30 h.
Registration: https://www.bodhipath-renchen-ulm.de/en/veranstaltung/trinlay-rinpoche-the-8-stages-of-shamatha-meditation/
---
Submit your event
Couldn't find your center's event? Propose it to our Bodhi Path Europe Team to be published: