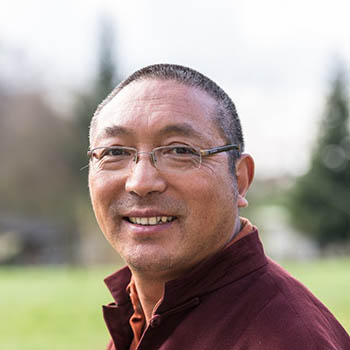 Ven. Trehor Lama Tulku was born in 1963 in the Kham region of Eastern Tibet. At the age of 13 he was recognized as the reincarnation of Ven. Agyal Rinpoche.
He completed his Buddhist studies and the traditional three year retreat at the monastery of Ven. Kalu Rinpoche in Darjeeling, Sonada. Following that he taught under the 16th Karmapa at Rumtek Monastery in India.
In 2004 the 17th Karmapa and the 14th Shamarpa appointed him in charge of the Karmapa Buddhist Institute in Nice, France, replacing the recently deceased Ven. Lama Thubten. Based in France, Trehor Lama Tulku teaches the Dharma at various centers in Europe, deeply touching the hearts of people with the simple but profound way in which he transmits the vast wisdom of the Buddha.