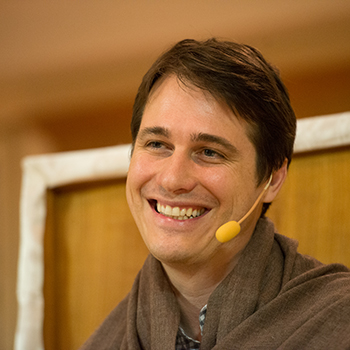 Trinlay Rinpoche was born in Switzerland of French and American parents in 1975. At thirteen months, His Holiness the 16th Gyalwa Karmapa and the Venerable Kalu Rinpoche recognized him as the reincarnation of an important Buddhist teacher.
The following year, Trinlay Rinpoche began the traditional Tulku training under the guidance of Kalu Rinpoche in India. During his spiritual schooling, Trinlay Rinpoche received many transmissions and Buddhist instructions from highly qualified teachers. Trinlay Rinpoche continued his Buddhist studies in Europe while concurrently beginning a basic Western education. He went on to study, among other places, at the Sorbonne University, the School of Oriental Languages, and the Karmapa International Buddhist Institute.
Trinlay Rinpoche, fluent in English, French, and Tibetan, is a charismatic speaker, and has taught in Buddhist centers and universities throughout the world.